MBOX to PST converter software by USL Software that convert your email data from *.mbox files. Here is the software, you need to know about.
MBOX to PST Converter Software
The migration of email data from one client to the other is always a bit convoluted. Whether you are a hardened experts who has been migrating emails for years, every task comes with unique challenges and the dreadful feeling of data loss never goes away.
And it is reasonable to feel a bit anxious. After all, email data can contain some of your most private, confidential, and crucial information, both personal and professional. If you are an average email user, stats show that there are up to 100 chats and photographs in your overall email database that are immensely important and personal to you.
So, moving all that information from one file to other or from one program to other is naturally a taxing and daunting process.
Add to that the fact that most third-party solutions have not offered enough trust and confidence in moving these contents safely.
Lack of any official support from major email clients provider also adds salt to the wound.
The Challenges
Here we are discussing about MBOX to PST Converter software, a niche category of software solutions who sole purpose is to secure contents from MBOX in PST format. The formats vary from the other greatly, making the extraction methodologies very complicated and full of risks.
When a user first time wishes to convert MBOX files to PST for whatever reason, they are met with nothing but disappointment. A large fraction of these software are nowhere near the quality and professionalism that email clients like Mac Mail and Outlook offers. Many users are accustomed to that level of efficiency, and not meeting the same with MBOX to PST Converter software can be disheartening.
The challenges range anywhere from too complex installation to severe data losses. It is also a daunting job to keep the structure and finer details of your emails intact during the migration. MBOX and PST both stores the data in a different way, technically speaking, making the extraction process for the converters a nightmare. There are frequent errors and unwanted alterations within the database.
You are likely to meet with annoying defects like broken images, modified text formatting inside emails, defective headers (especially if they were in Unicode standard), attachments separated from the respective emails or completely lost (mainly the non-textual and large sized attachments), fragmented folders and their structure, and many more.
It can get infuriating to face all these issues, that too, after giving your whole day.
Ultimate MBOX to PST Converter Software
This is primarily why USL Software stated the development process of Mail Extractor Pro by first getting rid of all the conventional and mostly ineffective methodologies. They built it from the scratch, keeping the complications with the data and all other areas in mind.
The result is exceptional.
Mail Extractor Pro can deal with all kinds of MBOX files and secure all your information into Outlook PST files in no time.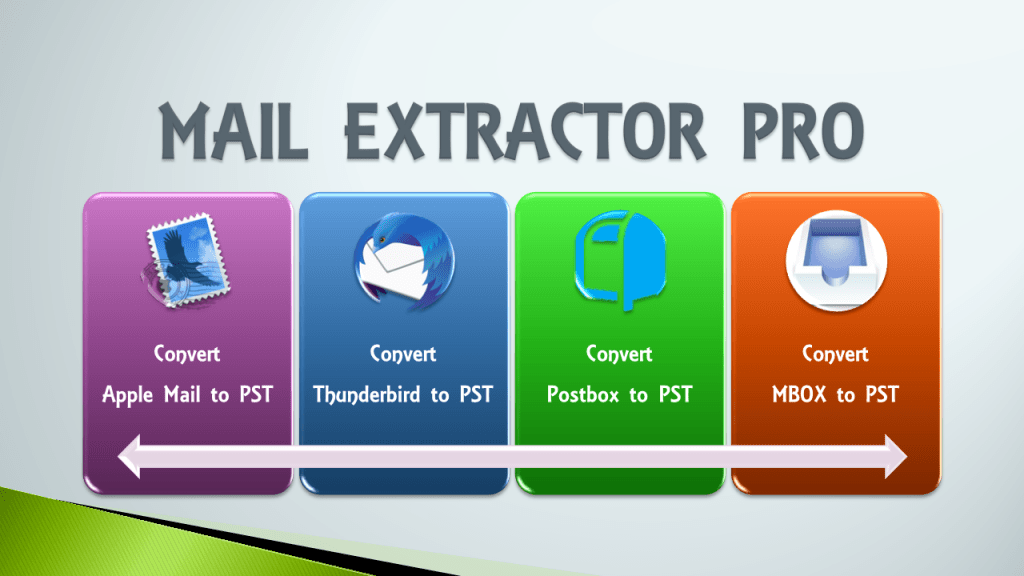 The internal logic used with the app works like a magic spell. A multilayered scanning method and responsive algorithms ensure all components, from tiniest to the largest, are dealt with and moved across the files without lapses. There are no miscalculations on the part of Mail Extractor Pro.
What you input as MBOX is precisely you get, except in PST format for Outlook email client.
And the basic interface, conversion speed, tech support, and free updates all come together in an integrated way to deliver the same experience you are used to with the professional email clients like Apple Mail and Outlook.
Mail Extractor Pro comes from USL Software, and they have made a name for themselves in offering unconventional but most helpful utilities to migrate data.
MBOX to PST Converter Software Free Trial
To get to know the mbox to pst converter software in depth, the demo version will be of great help. The demo version can work for as long as you want and lets you try all the features for converting maximum ten items within each folder of MBOX files.