How to Import OLM to Apple Mail
It looks simple to import olm to Apple Mail, but not exactly. You can drag the folders from Mac Outlook to Mac desktop. That will turn the contents in MBOX files compatible with Mac Mail, but it will take countless hours, and the conversion is rarely accurate.
Unfortunately, importing OLM to Apple Mail is not possible directly, so users have to resort such manual conversion methods.
The best Way to Import OLM to Apple Mail
Not anymore. With "OLM Extractor Pro" from USL Software, you can easily and automatically convert large and bulk of OLM files to MBOX files in a way that doesn't damage your data integrity and doesn't leave your output files crippled.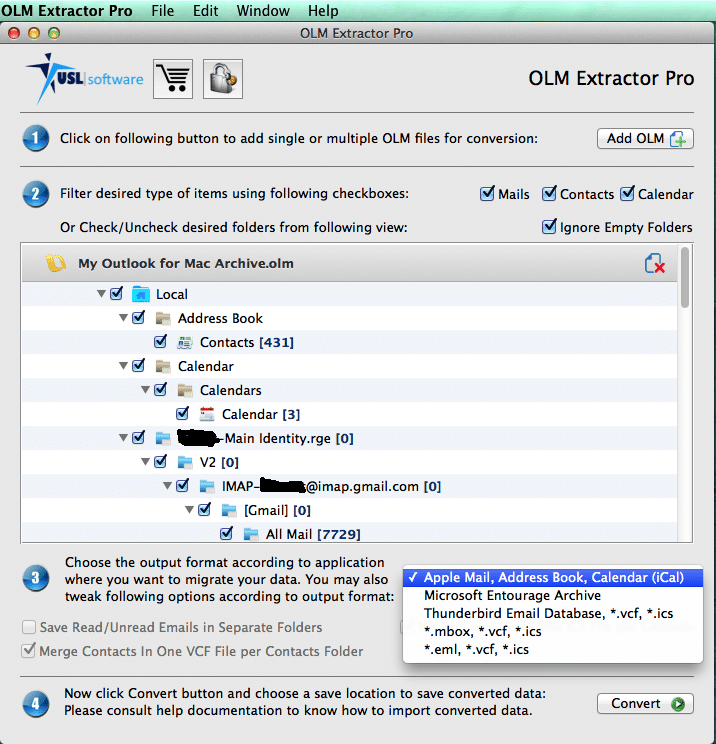 Built from totally corruption-proof algorithms, "OLM Extractor Pro" is sufficiently powerful enough to handle any number of OLM files of any size and convert them to Apple Mail MBOX effectively. USL Software has used the modern data-processing logic specialized in extraction from email files such as OLM. The inner-framework gives you a perfect utility to make this job as effortless as possible.
Comparing this to other typical OLM to Apple Mail migration tools, it becomes a hugely profitable deal. The features that it has to offer make your job flexible and accurate like you can't get anywhere else. Such as – support for non-English text, including Chinese, Korean, and Japanese. Most OLM converters do not have adequate programming logic to handle characters in double-byte, and that always resulted in the loss of non-English text. Such limitations are now a thing of past.
How it Works – Import OLM to Apple Mail
Another great example of how valuable "OLM Extractor Pro" can be and how it stands out from the rest is its accurate depiction of folder hierarchy in output files. When email files are concerned, it has always been complicated to extract contents while keeping the structure of your data folders unchanged. This tool by USL Software holds dedicated logic to check for metadata defining the order of your folders up to any depth (including sub-folders) and precisely maps it onto the output data files (MBOX in this case).
This article is concerned only with importing OLM to Apple Mail, but you should also know this. The tool also allows you to convert OLM to MBOX, EML other formats as well – Thunderbird, Postbox, Entourage and RGE format.
The auto-conversion of calendars and contacts into ICS and VCF files respectively makes the manual methods even more obsolete and not worth your time. Moreover, you get options like merging calendar and contact entries per folder into a single ICS and VCF file respectively, as opposed to converting each entry into a separate file.
There is also freedom in selecting or deselecting the folders manually after you load your OLM files onto the tool. Also, you can save emails to separate folders in output MBOX files based on their read/unread status.
Such micro-managing features give the users a lot of freedom and flexibility that is usually lacking from traditional email migration tools.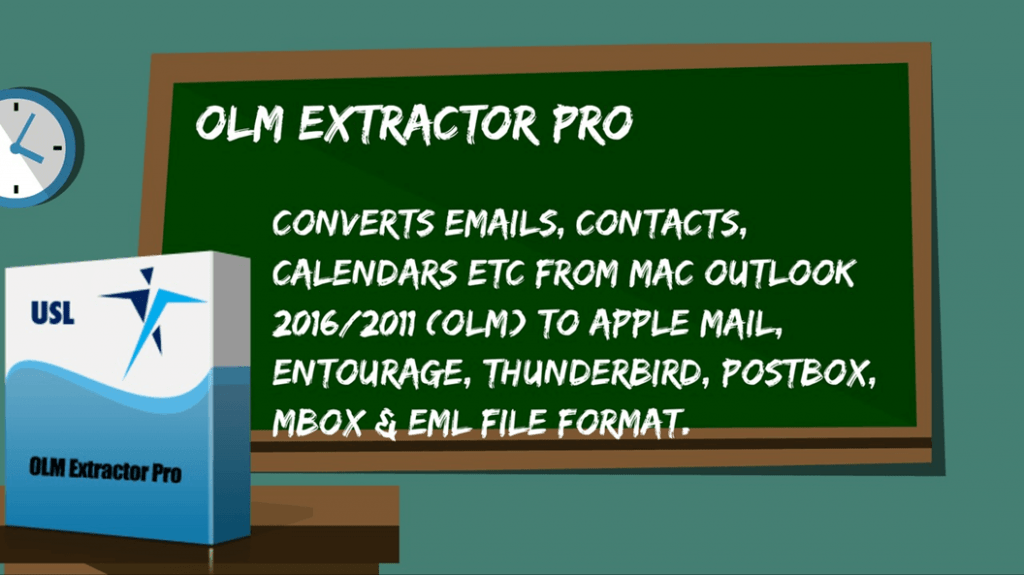 And lastly, the interface of "OLM Extractor Pro" offers the easiest way to convert files. The GUI eliminates much of the manual steps and automate them for quicker conversion. Everything is intuitive, so you don't have to go through any tutorial or training.
Even a complete basic home user with no experience of how to import OLM to Apple Mail can start using the tool from the next minute, and he or she would know exactly what to do. Every feature is self-explanatory and is structured nicely onto the GUI.
---
You May Also Like:
---
Download to Import OLM to Apple Mail
Want to try it? You don't need to buy the complete tool just yet. Get the setup here, install it, and start using in a free trial mode right away. This gives you full access to the features up to the conversions of ten items per folder. A perfect opportunity to evaluate "OLM Extractor Pro" in detail and in person. If you aren't satisfied, no harm done (which is unlikely).
In all probabilities, you'll be pleasantly surprised by how easy and efficient USL Software has made importing OLM to Apple Mail job.
And, the support team available around the clock makes it even harder to find any fault with the tool and the services. All issues, setbacks, and queries are resolved instantly, resulting in a streamline migration experience.
Get OLM Extractor Pro today to Import OLM to Apple Mail, Thunderbird, Entourage, Postbox, MBOX and EML file format.