Many times, we get asked by our readers about how to convert OST files to PST online.
It is not surprising. With the latest advancements in web-apps development, most tasks are done online, processed on servers. It is also called cloud-processing, where the things happen on the server-side rather than client-side. Browsers like Chrome make it a very convenient by making any installation of software on the computers unnecessary.
The Reality
Think of dozens of the online image editors. They allow you to edit photos and other graphics as you want.
But do they replace Adobe Photoshop type desktop apps.
Another example is Gmail.com for accessing your emails. It is an excellent interface that can be accessed only with a browse like Chrome and an internet connection. But it also does not replace dedicated desktop-based clients like Outlook.
No Tool to Convert OST files to PST Online
Therefore, when readers ask us for the best OST to PST online converters, our only advice is to avoid them. Moreover, there are few online, web-based converters for this job, but even if you do find them, they are not worth your time and efforts. Instead, invest your time and money on proper, dedicated, and professional desktop converters that not only make the job easier, but also much safer.
Sure, applications need installation on your machines, and it might be risky to do so if they are from unreliable sources. But the incentives are also plenty and far outweigh the issues. And if you are using an OST to PST file converter from a reliable company, there is zero risk, only helpful features, and power.
Without wasting too much time, let us get into the actual answer on how to convert OST files to PST. Hint: it is not online.
Ultimate Tool for Converting OST files to PST
We love "OST Extractor Pro" for converting OST files to PST. It has all the essentials and advanced features, all unified under a basic interface that is friendly and functional.
Features like:
Accurate conversion of details like headers, graphics, attachments, and more.
Also converts contacts and calendar items along with emails
Can convert large OST file with ease.
Supports OST files from all Outlook versions (Outlook 97 to 2019, Exchange, and Office 365)
The PST files it gives can be used with even Mac Outlook
Converts OST to many other formats such as MBOX, EML, Apple Mail, Thunderbird, Postbox, Entourage, and More.
Special scripts to handle Unicode text (non-English), like Chinese and other double-byte variants including Japanese, Korean, Vietnamese, etc.
Exclusive algorithms to map the folders from OST to PST (or other formats) without changing the hierarchy
As you can see, "OST Extractor Pro" offers a lot more of the convenient features than any other ordinary online converts can.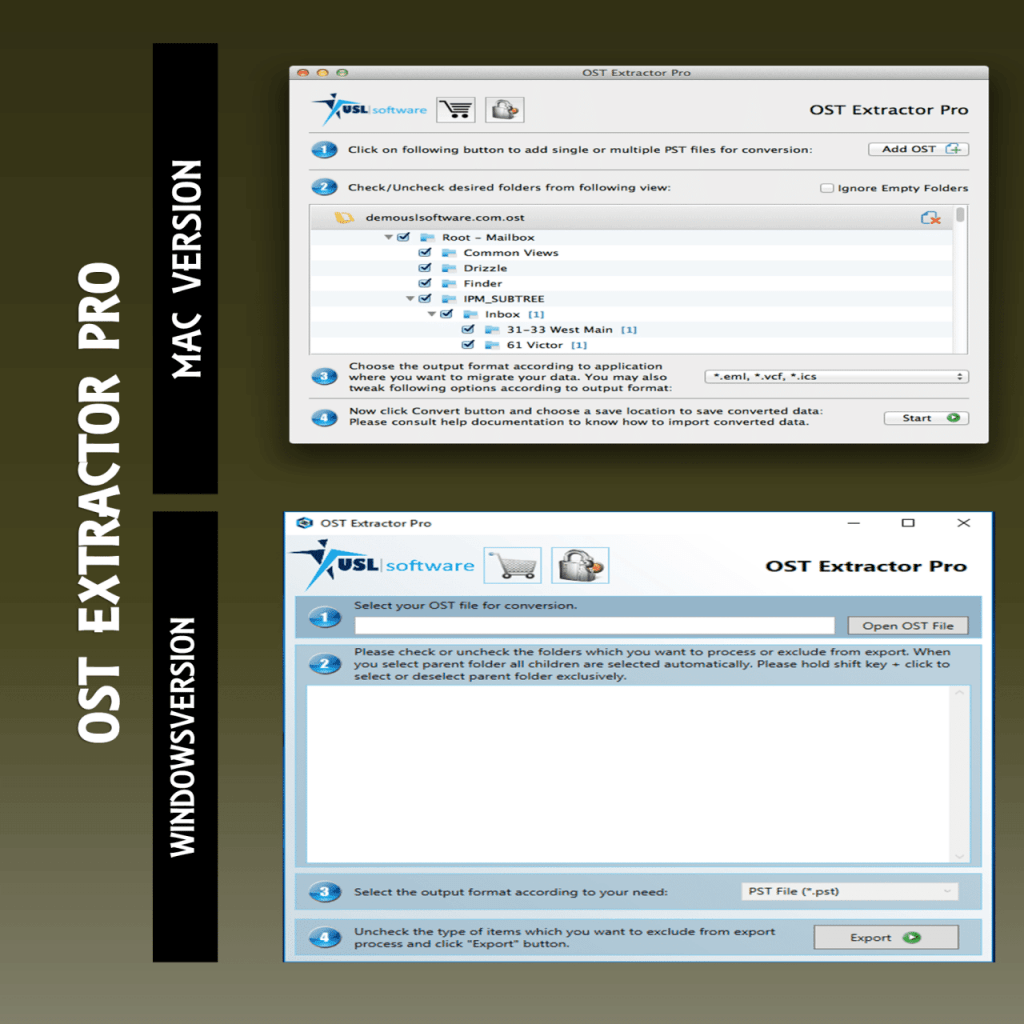 Get OST Extractor Pro to convert ost files to pst
It also makes it much safer since all data-processing happens offline on your computers. There is no privacy risk at all. Simply download it, install, and get started in no time. A free trial mode makes it possible to try it in less than two minutes and check out the features and UI up close.
Another tool that converts PST file
USL Software also brings "PST Extractor Pro," which converts PST files to many formats, including MBOX and EML. PST is also the Outlook data file like OST, but is a personal data file, while OST is offline and is a copy of exchange folders on servers. You can try it for free as well.
Both OST and PST Extractor Pro are tools approved by experienced users for their respective tasks and are upheld as the best.